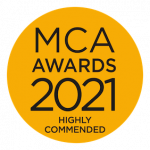 Young Consultant of the Year
If Jemma had been told growing up that she'd be a consultant, she would have said consulting wasn't the place for her – one misconception she's glad to have overcome! Although introversion isn't considered a typical consulting trait, Jemma excels in reassuring clients through her actions, not just her words.
Nearly five years into her career with BAE Systems Applied Intelligence, Jemma has operated across Defence and Financial Services, staying aligned to her values and using her bespoke blend of security savvy and consulting excellence to make a real difference. She demonstrates an unparalleled work ethic and her passion for using cyber security to protect and empower individuals and organisations is woven into her consulting DNA.
Jemma takes strategic security concepts and translates them into tactical endeavours, challenging security cultures and driving sustainable organisational change to deliver long term benefits for clients and colleagues. This was exemplified through her recent work with a Tier 1 Financial Institution where she led technical delivery of a new suite of industry-leading Security Standards, reflecting not only modern technological challenges but the client's ethos as a values-driven organisation that puts its customers first.
An outstanding consultant, Jemma champions collaboration, is deeply trusted by clients, and continuously strives to innovate and implement tangible solutions. In just five years, she has accelerated from a graduate to leading strategic security initiatives – a trajectory which, to the relief of clients and colleagues alike, shows no sign of slowing down…