The Young MCA is a professional network for those starting a career in management consultancy. Throughout the year the group hosts events and networking and development sessions for consultants with 0-5 years of consulting experience from MCA member firms. The Young MCA as a group aims to engage and develop the young consultant community, whilst shaping the future of the industry. To keep up to date with all Young MCA activities, you can sign up for the newsletter below.
Young MCA Events

You can find more information about all the Young MCA events which are open for registration here. We provide a variety of event formats to ensure we cover key issues within the industry, as well as core consulting skill workshops with expert speakers. Last year, consultants had the opportunity to attend workshops on cyber security, presentation skills, communications, data storytelling and experiences from leaders as well as in person events for networking. The MCA team helps manage the Young MCA communications and event activities and you can contact them here.
OUR KEY GOALS
Be the voice of young consultants in the consulting industry
Enhance the development of young consultants through innovative and engaging events
Provide key networking opportunities across the UK
Increase awareness of the consultancy profession to school leavers and undergraduates
Leverage our time, skills, and experience to help others and be socially responsible
YOUNG MCA COMMITTEE STRUCTURE
The Young MCA is led by the Young MCA Executive Committee and the Young MCA Council. The Council is made up of representatives from MCA member firms and meets 5 times a year. The Council provides feedback on industry initiatives to ensure that young consultants are represented at an industry wide level.
The Executive Committee is led by their Chair and consists of volunteer Vice-Chairs who lead their individual workstreams:
Events (panel discussions, skill workshops, networking, etc.)
Networks & Universities
Diversity & Inclusion
Regions (activity outside of London)
School Leavers (representing consultants who entered the industry via alternative routes)
PROMOTING CONSULTING AS A CAREER TO YOUNG PEOPLE
Members of the Young MCA also get involved with numerous University and School engagements across the UK promoting consulting as a profession. The Young MCA appears regularly on panels, discussing the life of a consultant in front of students interested in future career opportunities in the industry. We have strong relationships with several London based business schools and universities, but also attend events in Manchester and Birmingham.
The Young MCA has also produced a guide for school leavers who are interested in a career in consulting explaining the options that are available and advice from apprentices and young consultants who are already working in the sector.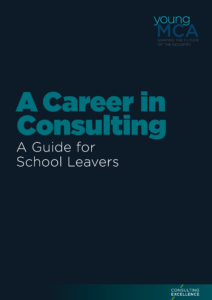 The Young MCA and Apprentices
An apprenticeship is a paid job where the employee learns and gains valuable experiences.  Many MCA members offer apprenticeships that include on-the-job training as well as at least 20% of the working hours completed through classroom-based learning with a college, university or training provider which leads to a nationally recognised qualification. Apprenticeships in the consulting sector are also expected to increase by in record numbers as the consulting sector continues to be more accessible to talent from a varied mix of backgrounds. Apprenticeships have also been surveyed in the MCA Annual Industry Report 2023 and over 800 trainees, apprentices or school leavers joined the sector (an 11% increase from the previous year).
Hear from consulting apprentices and read about a day in their working life is like:
YOUNG MCA IN THE REGIONS
MCA members have offices and consultants based across the country and the Young MCA has now established regional networks in the UK. So far we have hosted events and university sessions in Bristol, Manchester, and Birmingham, with the aim of ensuring our young consultants have access to the Young MCA network wherever they're based. If you frequently work outside of London and would like to keep tabs on events in your area, please get in touch with events@mca.org.uk.
Young MCA News

Young MCA Newsletter
Please complete the following form to register for the Young MCA newsletter.