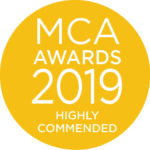 Young Consultant of the Year Highly Commended 2019
Mariam is an articulate and accessible communicator, confident working at all levels of client organisations to build trusted advisor relationships and deliver effective and sustainable change. Mariam has built a repertoire of skills and experience in consulting and has applied them through being a dedicated team player on multiple large scale transformational programmes across England, Wales, Ireland and the Middle East. Throughout these programmes, Mariam has used her creativity and tenacity to remove barriers and deliver successful outcomes.
With a strong passion to deliver high value to clients and ultimately to patients, Mariam has been specifically requested to be on high profile client assignments and has been described by colleagues as the calming and positive influence in the team.
Within the company's internal business, Mariam is a key point of contact for providing cultural insight on working with Middle Eastern and Muslim communities. Mariam is also an active member of the Diversity and Inclusiveness Group.
View the GE Healthcare Partners profile in the MCA Members Directory.