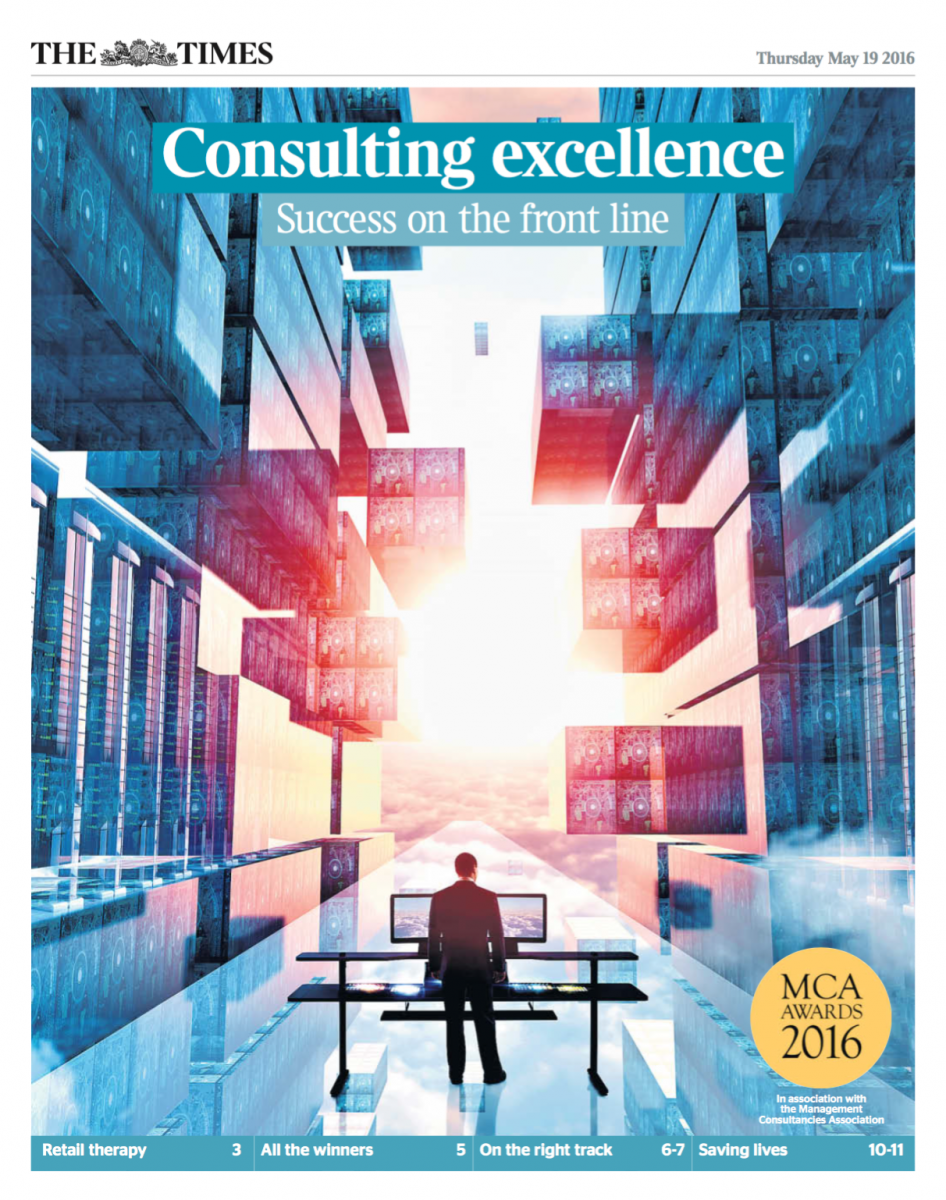 On 19th May, The Times released a special supplement featuring the winning firms and consultants from the 2016 MCA Awards. The 12 page supplement includes the stories behind all the winning projects from both the clients and the firms as well as interviews from all our Consultant of the Year winners.
The MCA Awards have now been running for 19 years and are the benchmark for quality within the consulting industry. They demonstrate and recognise the value of consulting and celebrate how clients and consultants working together achieve the best results.
This year's Project of the Year was awarded to LCP Consulting and Argos which saw the design and successfully implementation of an innovative "Hub & Spoke" supply chain solution, unlike anything delivered elsewhere in UK retail.
The Times Award for Consultant of the Year was won by Mark Epps of Deloitte for his work in leading an international programme to identify significant savings across a major European media provider's entire business model.
Alan Leaman, Chief Executive of the MCA, said: "This year's winners demonstrated the positive impact of high-quality consulting projects on the lives and work of millions of people, whether as customers, patients, taxpayers or employees. It was an outstanding set of entries."
The supplement is now available as a free PDF download on the MCA website.
-ENDS-
For more information, please contact:
Kevin Kear, Marketing Manager, Management Consultancies Association
Tel: 020 7645 7953
Email: kevin.kear@mca.org.uk
The Management Consultancies Association (MCA)
The MCA is the representative body for management consultancy firms in the UK. Its mission is to promote the value of management consultancy for the economy and society as a whole. The MCA's member companies which is over 60 per cent of the UK consulting industry, employ around 35,000 consultants and work with over 90 of the top FTSE 100 companies and almost all parts of the public sector. The UK consulting industry is amongst the best in the world and a vital part of the business landscape.
Compliance with the MCA's tough entry criteria and rigorous Code of Practicemeans that MCA member companies are widely acknowledged to provide high quality services to their clients.