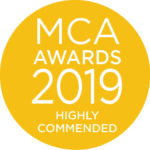 Team Leader Consultant of the Year Highly Commended 2019
During my 5 years at Arcadis I have had the privilege to work with a large number of talented people. Regardless of colleague's levels or the clients challenge, I believe that all teams should be well balanced. The team should feel challenged to ensure that they are still learning, whilst feeling adequately supported, able to exceed the client's expectations and importantly have fun. Creating this balance is different for each team but my clear and effective communications skills enable me to gain the buy-in and trust of clients and team members at all levels. I use these skills to help to cultivate the delicate team balance.
At Arcadis I have developed my skills in change management and I am now lucky enough to lead the internal team as well as designing and delivering large scale change programmes across a range of sectors. This has allowed me to focus on designing sustainable solutions which change the way in which Arcadis delivers change programmes as well as focusing on building the capability and capacity of our team to be able to respond to the demand.
I do not just adopt a team leader role in my work for Arcadis but also in my activities for charity outside of work. Whether it is organising a team to climb the three peaks, compete in a half marathon or Tough Mudder I focus on building a diverse team who want to push themselves and have fun along the way.
View the Arcadis profile in the MCA Members Directory.