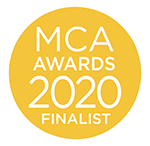 Kemi Ogunremi is a truly exceptional apprentice. She consistently exceeds expectations, operates beyond her experience level, and demonstrates the emotional intelligence and curiosity of a future leader. She takes responsibility for her work, uses innovative approaches, and has a 'can-do' rather than an 'it will do' attitude. She is an inspiration to everyone she works with.  
Kemi has played a key role in the team as part of the ongoing transformation of our Consulting business, and has used that experience to make a significant impact on a number of recent assignments. 
She has been a champion of behavioural change, often being called on to develop communications that are sent to over 2,500 people. And, using skills acquired during a placement in our Risk function, she has helped implement processes to support mobilisation across large, complicated, multi-country engagements. Essential risk-management support delivered flawlessly. 
It's clear from the moment you meet Kemi that she's found what she really wants to do in life. From the very first day of her apprenticeship, she's dedicated herself to putting into practice the theory she accumulated through her studies. She gets an obvious buzz from learning everything about our clients, the problems they face, and how to fix them.  
The past year as an apprentice has seen Kemi grow not only as a consultant, but also as a person. She's wise beyond her years, and often mistaken for a consultant many grades more senior than she is (for now).