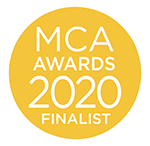 Meet Orsi. (Because "Orsolya" is just too complicated for most people to pronounce!) 
She's not your average Royal Navy leader. She's from Hungary for starters. She's only been working in defence for a few years. And her academic credentials? Well, if English and Japanese are your priorities then Orsi is the woman to turn to.  
So how is this young consultant from BAE Systems Applied Intelligence now heading up operations at NavyX, the Royal Navy's military and industry hi-tech accelerator? 
Orsi was only supposed to have been seconded for a few months. And yet time and time again, her contract has been extended and her ascent has continued. Her colleagues in the Navy – across all ranks – have come to rely on her passion, communication and leadership – as well as her uncanny ability to get things done.  
Thanks in large part to Orsi's dedication and drive, the Royal Navy is rapidly adapting to the challenge of Machine-Speed Warfare. From developing its Technology Vision to supporting the Defence Transformation Fund to setting up its accelerator, NavyX, hers has been a transformational impact, one rooted in the best traditions of the Royal Navy yet aspirational about what can be achieved in the future.  
Under Orsi's operational leadership, NavyX is pioneering the use of cutting-edge equipment, turning ideas into impact and exponentially accelerating the Royal Navy's speed of learning and ability to identify and integrate best-in-class technologies.  
It's quite the responsibility – but Orsi wouldn't have it any other way.