Equiteq's 2017 global survey of buyers of knowledge-intensive services businesses found an increasing appetite for transactions, with buyers expecting to initiate on average 10 acquisitions each over the next three years.
Management consulting and IT services companies expect to be the most prolific acquirers, initiating close to 12 acquisitions on average. The average size of targets is also expected to increase in 2018, with optimal revenues of targets rising by over 50% to $62.6m.
The annual, independently conducted survey of Management consulting, IT consulting, Media and Marketing, Engineering consulting and HR consulting buyers found that market convergence continues to be a key trend as buyers look to diversify.
"This continued convergence across consulting segments means that although sellers can attract premium valuations for synergies, they are less likely to come across their optimal buyer in the normal course of their business."
David Jorgenson
CEO, Equiteq
Strategic acquirers show an increased appetite for acquisitions and are prepared to pay increased multiples for the right levels of margin and revenue growth.
Buyers highlighted a quality management team, differentiated market proposition, long term client relationships and repeat client revenue as major considerations for evaluating a target.
Across the eight levers of firm quality, the research found that sellers could do a lot more to achieve optimal valuations:
More than 50% of buyers said that clearly describing their market proposition can improve sellers' valuations by over 20%. However, over half of targets are not doing this as effectively as they could be

Making IP or codified methodologies apparent to buyers has a significant impact on purchase price, yet only 30% of sellers are effectively demonstrating their IP
​"This year we organized our survey to identify specific buyer behaviours in each of the eight levers of our core assessment of firm quality, the Equity Growth Wheel. It was clear from the research findings that many sellers are missing out on premium valuations by not positioning their businesses to be aligned most effectively with the needs of buyers." Jorgenson adds.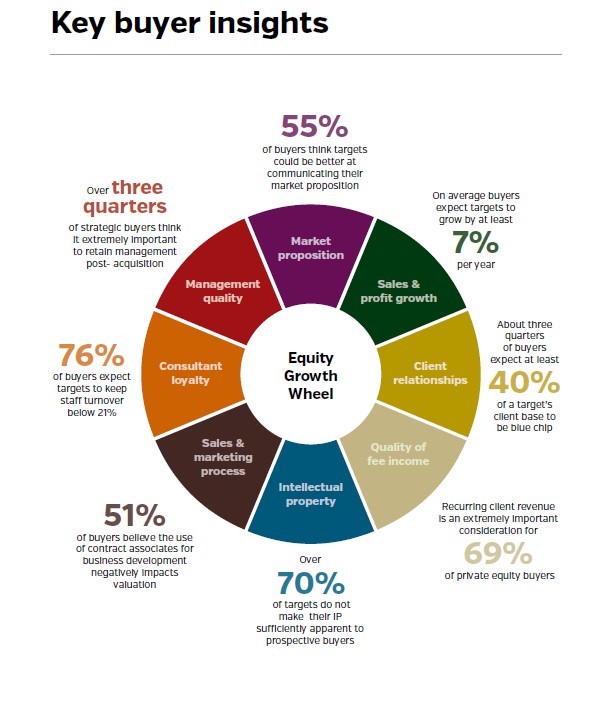 The full report can be downloaded free by clicking here.
About Equiteq (www.equiteq.com)
Equiteq is an international consulting and IT services sector M&A specialist advising owners of knowledge intensive businesses around the world from offices in London, New York, Singapore and Sydney. Equiteq helps owners best achieve their value and exit objectives through accelerating equity growth and ultimately realizing that value in a trade or private equity sale.
For more information, contact Paula Allerton of Equiteq on +44 203 651 0600 or paula.allerton@equiteq.com. Visit http://www.equiteq.com/equiteq-edge/register for free access to Equiteq Edge – Equiteq's online resource and information hub aimed at shareholders, prospective shareholders, investors and corporate development executives in the consulting industry.