Following the launch of the Consulting Excellence scheme, consulting firms, clients and national media have been communicating and demonstrating their support for this new initiative. As the scheme gains momentum, the MCA highlights how the initiative has been received:
Client & Media Support
Consulting Excellence has already received strong backing from clients in the private and public sector and the media. Ian Howes, Commercial Supply Development Director of Argos, was one of the first to share his support "Consulting Excellence will drive even more beneficial outcomes for us as clients; this is a welcome development for the industry and we are very supportive of the initiative."
This was followed by John Manzoni, Chief Executive of the Civil Service, commenting  that Consulting Excellence "aligns with government's aim to increase the value that public services generate from the consulting industry…an industry-wide focus on providing value and behaving responsibly is essential for the successful delivery of government's objectives…[consulting firms should] fully incorporate [Consulting Excellence's] principles when bidding for and providing services to government and the wider public sector."
Stephen Kinnock, MP for Aberavon, also communicated his support in The New Statesman when discussing building trust in politics and business after Brexit "The MCA's Consulting Excellence scheme is precisely the sort of initiative we need."
Similar thoughts were echoed in the media, with Anthony Hilton commenting in his Evening Standard City column "The fact the MCA has delivered this step change in setting recognisable standards of conduct is to its credit."
Applying the Principles
While member firms prepare their reports on how they are living the scheme and its principles, a number of MCA firms have been quick to explain how they can apply Consulting Excellence to their business.
Global Supply Chain management consultants, and winner of the 2016 MCA Project of the Year, LCP Consulting, have dedicated an area of their website to their commitment. Managing Partner, John Lockton, commented: "Consulting Excellence represents our commitment as MCA members to the highest standards of consulting. We are continually looking to support our clients and make it easier for them to achieve their goals. The key principles are very close to LCP's heart and will further improve the quality of client service and value we deliver."
Big 4 consultancy KPMG has also been quick to apply the principles, stating the consulting firm is 'proud to be at the heart of Consulting Excellence'. Nigel Slater. Head of Management Consulting said: "Consulting Excellence is a great platform for us to affirm to our clients and our people the value that we bring. It enables the industry to raise the bar in terms of what being a consulting firm means and being transparent on the high standards that we set for ourselves within the MCA"
Communicating Support
MCA members have been vocal in communicating their support for the scheme, running targeted campaigns both internally with their consultants and externally with their clients and through their social media channels.
In a release to industry and local press, Huthwaite International announced the firm had joined the 'world's top firms as founders of major consultancy initiative', with CEO Tony Hughes commenting: "The 'Consulting Excellence' initiative will be good for our clients, good for the consulting industry, good for our employees and good for Huthwaite…. the MCA is ensuring that this is seen and heard by the people who have the power to shape the industry for the future."
In a release from Oystercatchers, Managing Partner Richard Robinson, commented: "As the world around us goes through seismic change, it's more important than ever to be recognised for genuinely delivering client value coupled with strong ethics and purpose. We welcome the initiative wholeheartedly".
Similarly, Sysdoc's Head of Consulting, Guy Sorrill, publicised his support saying "I am delighted that Sysdoc have committed to Consulting Excellence, and to be here at the launch is a fantastic opportunity for us to be part of the success of this programme, and to help drive best practice across our industry."
While on a statement on their website, PPL's COO Lisa Larsen, said: "We are proud to support this initiative which help set standards for how we, and the management consulting sector as a whole, add value to our clients and to the communities they serve".
This was echoed by Rod Scott of Oakland Consulting, announcing "We fully support this initiative – it underpins the best in consulting and creates additional benefits for our clients and our staff."
Social media has been a key tool for promoting the scheme using the #ConsultingExcellence:
#ConsultingExcellence Tweets !function(d,s,id){var js,fjs=d.getElementsByTagName(s)[0],p=/^http:/.test(d.location)?'http':'https';if(!d.getElementById(id)){js=d.createElement(s);js.id=id;js.src=p+"://platform.twitter.com/widgets.js";fjs.parentNode.insertBefore(js,fjs);}}(document,"script","twitter-wjs");
Adopting the branding
As part of the Consulting Excellence campaign, the MCA has provided members with various campaign artwork. In particular, the logo has been widely used by MCA members and has been quickly incorporated into email signatures, communications, pitch documentation, job specs and collateral: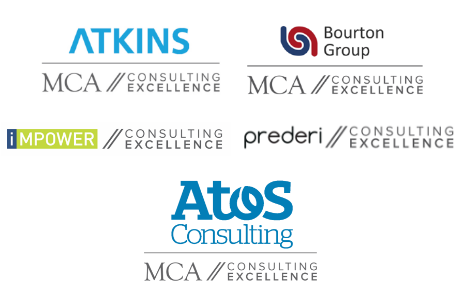 Signing of the declaration
A number of firm representatives have visited the MCA offices recently to add their signatures to the launch event declaration. BearingPoint, Philips, PwC, Wipro and Visa have all since signed the document:
Consulting Excellence Declaration Signing