The MCA (Management Consultancies Association) has challenged many of the assumptions behind the Government's approach to improving UK productivity. In its response to the Business Department's Consultation Document on Business Productivity, the representative body for the UK's consulting firms says that the emphasis on improving the performance of SMEs is 'misleading' and that policy-makers need to demonstrate far more urgency in their approach. The MCA's response is based on in-depth analysis and consultation with its member firms and an exclusive survey of more than a hundred leaders of British businesses.
Alan Leaman, Chief Executive of the MCA, said:
"Policy-makers need urgently to up the UK game on productivity. It is not good enough to characterise this largely as an issue for SMEs, or to miss the links with quality, customer service and sustainability. Our members are clear that performance improvements in the round are required."
In its submission to the Government review, the MCA argues that:
Policymakers lack the necessary urgency in their attitude and approach to the UK's productivity challenges. The terms of the call for evidence, given the need for urgency, are too narrow. Policymakers should be inviting evidence on how they can support a step-change in the UK's performance.
The definitions of productivity used throughout are old-fashioned. Business and government should be engaged in a debate about a productivity of outcomes, especially important given the UK's position as a service economy.
An emphasis on outcomes would also help detoxify the term 'productivity'. Across many sectors, productivity is associated with invasive approaches to staff management or with headcount reductions. A service-orientated approach should associate productivity with positive issues, such as job satisfaction and career adaptability. We also argue that the pursuit of diversity and inclusion is relevant, both in motivating staff and in creating a culture of innovation, critical to productivity.
We agree with the emphasis within this call for evidence on the relationship of management to productivity. We cite the evidence of an MCA member firm on the phenomenon of the 'accidental manager'.
The preoccupation with the 'long tail' of SMEs in the UK is misleading. The slower productivity performance since 2008 of the larger corporates is of rather more concern.
At the level of the large corporates, digital adoption has been anything but sluggish. However, the evidence of its productivity impact is mixed.
---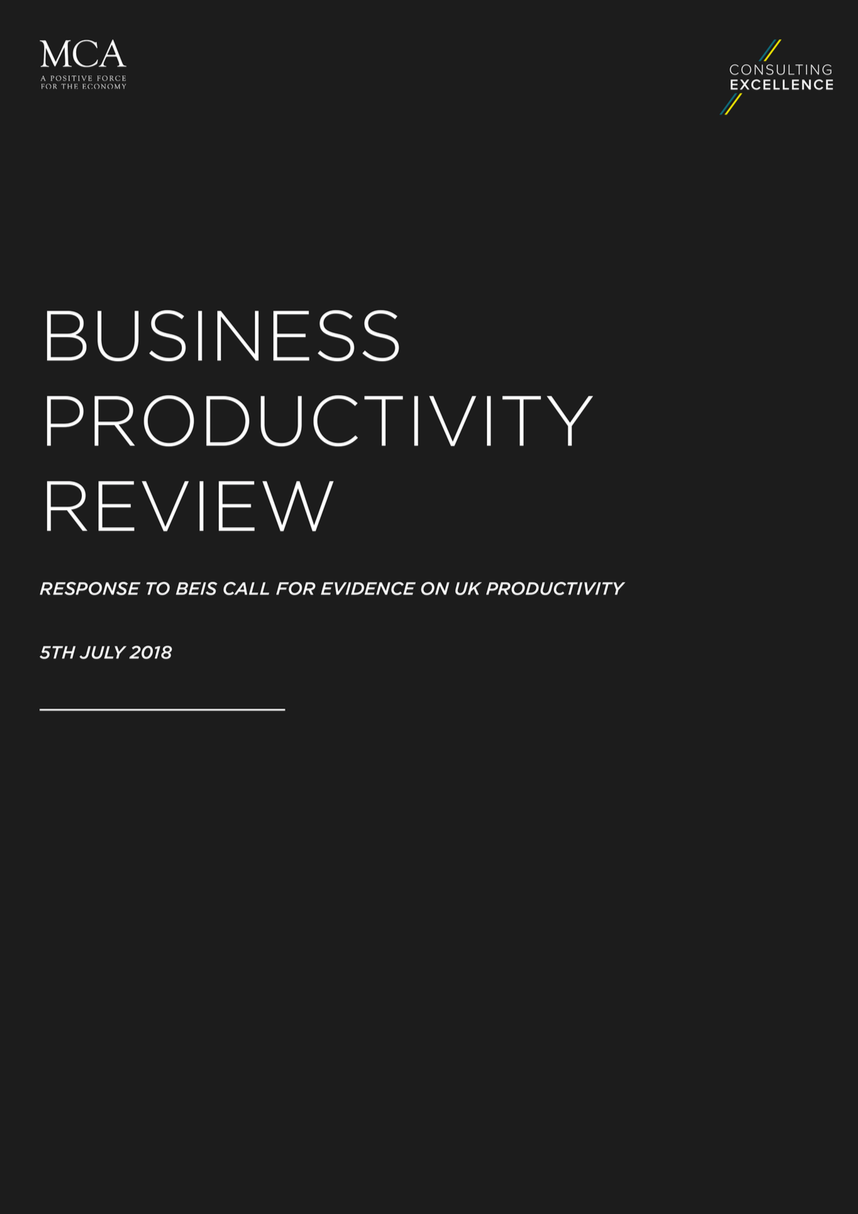 TO READ THE FULL REPONSE, PLEASE CLICK HERE.