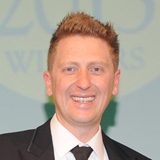 Guy Lucchi is a Solution Director at CSC and the 2013 MCA Technology Consultant of the Year. He was recognised for his work as Chief Technology Officer for the NHS's adoption of Lorenzo (CSC's strategic healthcare application) which he describes as 'one of the largest, most technically complex, ground breaking IT led transformation programmes ever undertaken in Healthcare'. We spoke to him about the project and his career in consulting.
How did you start in management consultancy?
My first job out of university was working for a major utility company as part of their graduate trainee programme. At that time both the industry and company were going through an unprecedented amount of change and a completely new approach to operating the business was required. The company had just commissioned one of the big six management consultants and CSC to help them transform the regulated electricity distribution business through the use of technology. I had the pleasure of working as part of a joint client and consultant team responsible for shaping the business case and the conceptual solution plus delivering it and seeing the results. It was on this programme that I experienced at firsthand the transformational power of technology-lead consulting which in turn drove me to seek out a career in management consultancy.
You were recognised as Technology Consultant of the Year for your work as Chief Technology Officer for the NHS's adoption of Lorenzo (CSC's strategic healthcare application). Why do you feel the project was so well acknowledged?
It was one of the largest, most technically complex, ground breaking IT led transformation programmes ever undertaken in Healthcare and had a high profile in public life. Healthcare matters to everyone, and the opportunity for technology to support better outcomes for patients is staggering.
During the project you managed a team of more than 150 people. What leadership tips did you draw upon?
When it comes to leadership my philosophy is always to lead from the front and by example. This coupled with an infectious passion, a determination to 'make things happen' and a never-give-up attitude are essential in order to command respect from the team and motivating them to work hard and deliver what's needed. It is critical to set stretching but clear goals and balance direction with collaboration. To get the best from the team I encourage everyone to communicate with me and with each other. This can be a challenge across different sites and time zones, so I use formal methods, such as daily conference calls, to share knowledge and keep the team informed on progress and developments. In addition, I visit every site in person; and I'm always available if someone needs help, advice or has something to contribute.
As CTO, how did you explain some of the more technological complex ideas and solutions to clients who may not have a great deal of technological knowledge?
Understanding your audience by putting yourselves 'in their shoes' and thinking how the change could improve or impact their outcomes is absolutely critical. Once you understand their perspective, my approach is to explain how the technology can help achieve their objectives, using clear simple language and supporting visuals. In short the trick is to take a business first, rather than technology first, approach to the conversation.
What projects do you have lined up for the future? What would you like to achieve in the coming years?
I am passionate about staying in Healthcare consulting in the short to medium term. The industry is facing an unparalleled need to improve the way 'care' is delivered to improve patient outcomes and to reduce the spiralling costs. Technology will be a foundation enabler to further join up 'care' between different institutions, to move from reactive to predicative 'care' and to treat patient's remotely in their homes. To this end, I have recently moved to a global role in CSC to help shape the technology strategy and product portfolio to address these challenges.
What challenges do you think the management consultancy industry is facing?
Increasing the speed to 'value' is probably one of the biggest challenges I see. Traditional consulting engagements typically lay out a change programme over several years. Our clients want "in year" value delivered at the same speed they see "social media" value being generated in their private lives. Getting this balance right in consulting engagements will be key.
What advice would you give anyone wanting to get into the consulting industry?
You have to be absolutely passionate about working with clients who have real business challenges, crafting a solution and seeing the results being delivered. I believe you need both business breadth and technical depth with the ability to translate a business vision into a technical solution and work at all levels from concept through to coding.