Businesses identify the pace of change and unprecedented levels of uncertainty as the key challenges they are confronting currently, with 90 per cent of leaders in the private and public sector believing this has increased in the last three years, says a new report, Barometer on Change 2018-19 by Moorhouse. There is a significant increase in companies investing internally in order to keep up with the pace of change, but fear of failure may be stopping organisations from reaping the benefits.
Two thirds of organisations (67 per cent) surveyed have invested more in change management initiatives this year than last, and, from last year, there is an uplift of 18 per cent of organisations that believe they have a culture that embraces change rather than resists it.  But timid attitudes to risk still contribute to many companies being unable to welcome change, with over 64 per cent of respondents unable to identify how failure would be treated in their organisation, and 10 per cent believing it would result in them losing their job.
The majority of respondents (57 per cent) say it takes longer than nine months for their organisation to respond to change effectively.  Organisational structure is identified by over half of respondents (51 per cent) as their single biggest challenge, and can include expertise silos and hierarchical team and operating models. This problem is not going to go away. Eighty-four per cent of those surveyed believe the pace and pressure of change is only going to increase.
Recruiting staff is also an issue; with over half (51 per cent) of those surveyed believing the challenge of attracting and retaining talent is going to get harder in the next 2-3 years. Interestingly, smaller organisations (<1,000 full time employees) are significantly more confident in their ability to attract and recruit top talent than larger organisations, perhaps because they place more emphasis on individuals instead of employee groups.
Companies know they have to change to survive – 87 per cent agree new products and services are important, and 25 per cent believe them to be absolutely vital. Clear communication of purpose is key – 93 per cent of those surveyed believe having clarity of purpose as an organisation is important to success. But executing good communications is difficult; senior operational managers are 20 per cent less likely to agree with senior leaders on how clear their organisational objectives are.
The Barometer on Change 2018-19 outlines strategies for companies to help them tackle these challenges. It focuses on three themes: i. enabling leaders and staff to demonstrate courageous behaviour ii. developing agile companies and iii. improving staff recruitment and development with an approach that emphasises capability and potential above past achievement.
'The aim of our report is to give guidance as UK business confronts this revolution of change and unprecedented levels of macro-economic and political uncertainty. Being an 'agile' company is key to survival, and this report outlines some of the key principles to achieve agility. In Barometer on Change 2018-19, we explore how to foster courageous, innovative behavior among staff, and review current attitudes to recruiting and retaining talent.  Companies need to set themselves up differently to thrive in this environment and we've used our experience to respond to this,' says Stephen Vinall, Partner, Moorhouse 
'In a way, individual businesses are a microcosm of the changes the country and wider world are going to be going through over the next few years, with customer expectations changing, geopolitical instability, and an increasingly disruptive technological marketplace,' he adds.
'In order to create the right talent-base for today, we need to move from 'have done' experience to 'could do' capability and potential in order to turn talent into an invaluable asset that enables us to navigate the challenges ahead,' adds Richard Goold, Partner, Moorhouse.  
---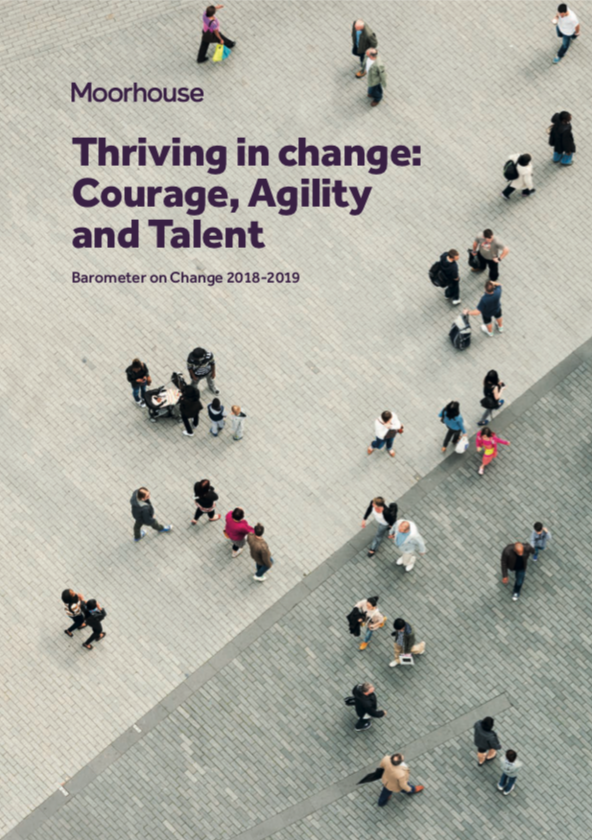 To download the full report, please click here