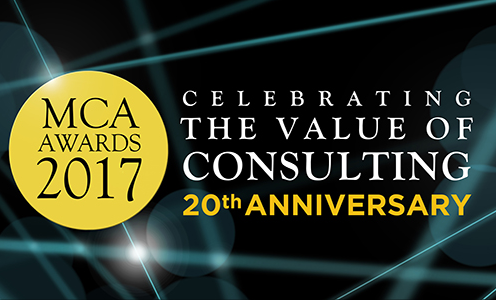 31 management consulting firms have successfully won through to be finalists in the 2017 MCA Awards. The MCA awards are the benchmark of quality within the profession, celebrating the best projects, individuals and initiatives in the UK consulting industry. Winners will be announced at the gala ceremony and dinner on Thursday 27 April, which also marks the MCA Award's 20th anniversary.
Deloitte lead the way with 15 finalists, followed by PwC with 11. Other notable tallies include Arup with nine, KPMG with eight, Arcadis with six and Atkins and GE Healthcare Finnamore with five. Many of the UK's specialist consulting firms are also well represented, making up around half of the firms on this year's shortlist.
54 client organisations will be represented on the evening. Coca-Cola, Boots and Aldi are amongst a strong consumer brand presence. A large number of infrastructure projects have been recognised with Highways England, National Grid and Network Rail all finalists. Meanwhile public sector clients continue to be strongly represented with a number of exciting police, council and NHS as well as central government projects included.
The 2017 MCA Awards also sees the launch of three new categories recognising firm initiatives in the areas of Client Service & Value, Ethical Behaviour and Professional Development. The Consulting Excellence awards align with the new MCA scheme celebrating value and the commitment of MCA members to the highest professional standards.
Alan Leaman, CEO of the MCA, commented:
"In 2017 we will celebrate 20 years of the MCA Awards. The value of consulting has probably never been more apparent than today as British businesses deal with the consequences of the Brexit vote and as public sector continues to respond to spending pressures and the need for service improvement. These Awards will demonstrate that value in action."
The Times Consultant of the Year will also be announced on the night, as well as the overall Project of the Year and Best New Consultancy. The Times will also be featuring all winners in a special supplement after the main event.
The 2017 MCA Awards finalists are:
Consulting Excellence Awards:
Client Service & Value
Egremont Group
GE Healthcare Finnamore
iMPOWER
PPL
PwC
Ethical Behaviour
Arup
GE Healthcare Finnamore
PwC
Professional Development
Arcadis
IBM
Moorhouse
PwC
Project Awards:
Best Use of Thought Leadership
Arup – City Resilience Index
Deloitte – 'Future of work' thought leadership series
PA Consulting & Longitude Research – Innovation as Unusual
PwC – Leaving the EU- Implications for the UK Economy
Change Management in the Private Sector
Arcadis with Thames Water
Challenge Consulting with Hitachi Capital Vehicle Solutions (HCVS)
Curzon & Company with Roke
Egremont Group with Walgreens
Grant Thornton with ABCUL
Change Management in the Public Sector
Arcadis with Ministry of Justice
Atkins Management Consultants with Department for Transport
Atkins Management Consultants with Highways England
Deloitte with Hampshire County Council
EY with Greater Manchester Police
GE Healthcare Finnamore with Mids & Lancashire CSU
Integration Consulting with DIT – Department of International Trade (former UKTI)
KPMG with Western Sussex NHS Hospitals
PPL with West London Alliance
Commercial Excellence
Arcadis with National Grid
Atkins Management Consultants with Highways England
Pearson Ham Consulting with Welcome Break
Customer Engagement (sponsored by Huthwaite International)
Deloitte with Aldi
EY with Liberty Global
EY with Informa
IBM with Barclays
KPMG Nunwood with Nationwide
Digital and Technology (sponsored by Thales Cyber and Consulting)
Atos Consulting with Royal Free London NHS Foundation Trust
Capita Transformation with Southampton City Council
Deloitte with Clydesdale Bank & Yorkshire Bank Group (CYBG)
IBM with Boots
IndigoBlue with Dixons Carphone
Moorhouse with London NHS
Finance & Risk Management
Arup with Dŵr Cymru Welsh Water
Innovation (sponsored by Kimble)
Arup with Network Rail
Deloitte with Transport for London (TfL)
iMPOWER with NHS Bromley CCG
Propaganda with ReFood
International (sponsored by IndigoBlue)
Deloitte with Equinix
Efficio with Sagia
Egremont Group with Walgreens
PwC with CDKN (Client & Development Knowledge Network)
PwC with DFID
People (sponsored by KellyOCG)
Accelerating Experience with CitySprint Ltd
Arup with East Midlands Leadership Academy (EMLA)
BearingPoint with Saga
Efficio with Informa
Performance Improvement in the Private Sector (sponsored by Mindbench)
Arcadis with Southern Water
GE Healthcare Finnamore – Healthcare at Home
KPMG with Coca Cola
KPMG Boxwood with McCarthy & Stone
PwC with Welsh Water
Performance Improvement in the Public Sector
Arup with London Overground, TfL
Deloitte with Sussex Police
KPMG with HM Courts & Tribunal Services (HMCTS)
Social & Environmental Value (sponsored by X-Forces)
Arup with The Crown Estate
Deloitte with Vi-Ability
PwC with Travel Foundation & TUI Group
Strategy
Cognosis Consulting with AkzoNobel (Dulex Paint)
Cognosis Consulting with SABMiller
Comotion Consulting with Reed Exhibitons
Deloitte with Bayer
Propaganda with ReFood
Individual Awards
Change Management Consultant of the Year
Caroline Crewther, Atkins Management Consultants
Tatiana Collins, BearingPoint
Sonia Storr, Deloitte
Chris Twigg, Inner Circle Consulting
Meir Adler, KPMG
Digital & Technology Consultant of the Year
Maria Kordoni, Arup
Nikola Prelevic, Atos Consulting
David Woodhead, CSC
Ed Greig, Deloitte
Matthew Shearsby, KPMG
Performance Improvement Consultant of the Year
Olu Eriolu, Arcadis
Shiow Wel Goh, Deloitte
Francesca L Wolfe, PwC
Strategy Consultant of the Year
Josef Hargrave, Arup
Matt Locsin, Deloitte
Tim O'Hanlon, GE Healthcare Finnamore
Jamie Ounan, Inner Circle Consulting
Young Consultant of the Year
Carey Williams, Atkins Management Consultants
Emily Brennan, Atos Consulting
Chris Quinn, Chaucer Consulting
James Lawson, Deloitte
Natasha Dudas, Deloitte
Caoimhe Thornton, KPMG
Timothy Price, PwC
Shyam Radia, PwC
The following companies will be competing for the title of Best New Consultancy (sponsored by Prism Executive Recruitment). To be eligible for this category you must have a project that has been selected as a finalist, and be entering the MCA Awards for the first time:
Accelerating Experience
Cognosis Consulting
Comotion Consulting
Egremont Group
IndigoBlue
Integration Consulting
Pearson Ham Consulting
Winners are decided by an independent panel of expert judges and will be announced at the Awards Dinner, held at the Park Plaza, Westminster, London on 27 April 2017.
Full details on the MCA Awards 2017 are available via www.mca.org.uk/awards.
-ENDS-
The MCA is the representative body for the UK's leading management consulting firms. For 60 years, the MCA has been the voice of the consulting industry, promoting the value of consulting to business, the public sector, media commentators and the general public. In 2015, MCA member companies generated £5.5bn in fee income and employed 45,000 people, representing around 60% of the UK consulting industry.
The new Consulting Excellence scheme, means that all MCA members are committed to highest standards of ethical behaviour, client service, and professionalism.