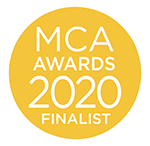 Jen's passion for sustainability and delivering change that creates a better world for future generations has changed the way we think and work at Gate One.
Upon joining our company, Jen immediately identified an opportunity to use our brand as a platform to promote the sustainability agenda. Having won internal support for this she created a new service line, with an accompanying thought leadership series for Gate One to take to market. 
Her sustainability initiative has since gained widespread exposure, culminating in a guest spot on BBC Breakfast, a show which regularly attracts 1.5 million viewers. Invited to speak as an expert in retail sustainability, she discussed the importance of retailers knowing their target market and the steps many are taking – including affordable brands – to broaden their sustainability practices.  
With eight years' experience across the banking, retail and consumer sectors, Jen is an experienced Gate One consultant, having previously worked at KPMG. Through her ability to highlight simple ways of bringing sustainability to business and product strategies, Jen hopes to support her clients in delivering lasting change that makes a positive impact on the environment and for society.
This thread of delivering lasting change is seen across all of Jen's client work, where people sit at the heart of every project, despite working on some of the industries' most critical programmes. 
View the Gate One profile in the MCA Members Directory.