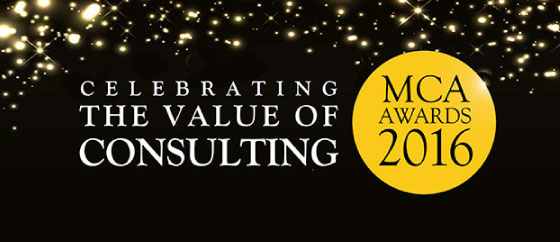 30 management consulting firms have made the shortlist for the 2016 MCA Awards following a record number of entries. The MCA Awards are the main event in the UK consulting calendar and are recognised as the benchmark for quality within the profession. Winners will be announced at the gala ceremony and dinner on Thursday 21 April.
Deloitte and PwC lead the way with the most shortlisted projects and individual consultants – with 17 and 15 nominations respectively. Other notable tallies include KPMG with eight, GE Healthcare Finnamore with seven, Arup with six and CSC with five. Many of the UK's specialist firms are also well represented, making up around half of the firms on this year's shortlist.
Entries to these Awards come jointly from consulting firms and their clients. 68 client organisations will be represented on the evening. Sainsbury's, Argos and Marks & Spencer are amongst a strong retail presence. A large number of infrastructure projects have been recognised with Transport for London, Network Rail, Thames Water and the Airports Commission Project all on the shortlist. Meanwhile public sector clients continue to be strongly represented with a number of exciting police, council and NHS as well as central government projects included.
Alan Leaman, CEO of the MCA, commented:
"Great consulting projects and individual consultants help their clients achieve their ambition. But they also require partnership and collaboration, which is why we are delighted by the range of this year's shortlist and the engagement of so many outstanding clients.
"2016 marks the 60th anniversary of the MCA and is also when we will be launching a new and exciting Consulting Excellence campaign. These Awards get us off to a great start."
The Times Consultant of the Year will also be announced on the night, as well as the overall Project of the Year. The Times will also be featuring all winners in a special supplement after the main event.
The 2016 MCA Awards shortlist is as follows:
Best Use of Thought Leadership
Arcadis LLP –The Performance of Places: The Arcadis Sustainable Cities Index
Arup – Lighting in the Urban Age
Deloitte – Measuring the return from Pharmaceutical Innovation
Grant Thornton UK LLP – Spreading their Wings: How to Build a Successful Local Authority Trading company
KPMG – Customer Experience Excellence Centre
PwC – Global Financial Markets Association
Change Management in the Private Sector
Accenture with Royal Dutch Shell
BearingPoint with Volkswagen Financial Services
Capita Transformation with O2
Curzon & Company LLP with NSG Pilkington
Deloitte with GlaxoSmithKline
EY with Western Global
Grant Thornton UK LLP with Well
North Highland UK with O2
PwC with BUPA
Q5 with British Gas
Change Management in the Public Sector
Accenture with West Midlands Police
CSC with Asset Information Services
Deloitte with Department for Education
GE Healthcare Finnamore with Birmingham Cross City CCG
Inner Circle Consulting with Achieving for Children/Richmond and Kingston
KPMG with Pensions Wise
PPL with Epsom Health and Care Programme
Prederi Limited with Waltham Forest
PwC with GLA
Commercial Excellence
Accenture with Anglian Water
Achieve Breakthrough with Sanofi
Arcadis with Thames Water
Efficio with Nets Holding
EY with City of Edinburgh
LCP Consulting with Argos
PwC with Aircraft Alliance
PwC with NHS PCSS
Customer Engagement
Deloitte with Virgin Media
EY with Pearson
Propaganda with The Car People
Digital and Technology
Arcadis with Transport for London (TfL)
Arup with CERN
Atkins with Department for Education
Baringa Partners with Nationwide
CSC with Network Rail
Deloitte with Philips
Efficio with Network Rail
Elixirr with TUI Group
GE Healthcare Finnamore with Health Education England
North Highland UK with Sainsbury's
Finance & Risk Management
Arcadis with Thames Tideway Tunnel
Grant Thornton UK LLP with Columbia Threadneedle
Sysdoc Ltd with Associated British Ports
Innovation (sponsored by Kimble)
CSC with Network Rail
Elixirr with AppDynamics
LCP Consulting with Argos
International
Curzon & Company LLP with Aliaxis – ALILA
Deloitte with Biogen
Elixirr with Barclays Africa
PwC with Puerto Rico Science Technology and Research Trust
People (sponsored by KellyOCG)
BearingPoint with Barclays Agile Branch
Deloitte with Cabinet Office
Korn Ferry Hay Group with NHS Leadership Academy
KPMG with NHS Leadership Academy / NHS England
Moorhouse with MBNL
Performance Improvement in the Private Sector (sponsored by Mindbench)
Hudson and Yorke with eir
KPMG with Allied Irish Bank Customer Services Transformation / AIB
PwC with National Australia Bank
PwC with Marks & Spencer
Performance Improvement in the Public Sector
Atkins with Department for Education
Deloitte with Network Rail
Efficio with South West Police
GE Healthcare Finnamore with Emergency Care at Barking, Havering and Redbridge University Hospital NHS Trust
KPMG with Ministry of Justice
KPMG with Bedfordshire Police Force Quality Improvement Programme / Bedfordshire Police
PPL with The Three Borough Hospital Discharge Programme
Social & Environmental Value
Arup with Leeds City Council
Moorhouse with CentrePoint
Mott MacDonald with Department for Education
Mott MacDonald with Highways England
PwC with Ofwat
Strategy
Arup with Greater London Authority
Deloitte with 'Said' Business School
PwC with Airports Commission Project
Individual Awards
Change Management Consultant of the Year
Crystal Contreras, Accenture Consulting
Ben Coulson, Arup
Lisa Calmiano, CSC
Caroline Kennair, Deloitte
Tim O'Hanlon, GE Healthcare Finnamore
Digital & Technology Consultant of the Year
Chris Lyth, Arup
David Moran, CSC
Andy Bourne, Deloitte
Matthew Wright, EY
Ross Mardle, PwC
HR Consultant of the Year
Laurence Collins, Deloitte
Performance Improvement Consultant of the Year
Mark Epps, Deloitte
Karen Cheetham, GE Healthcare Finnamore
Vicky Lexton-Jones, KPMG
Strategy Consultant of the Year
Sumner Makin, Deloitte
Myrto Lee, PwC
Nick Forrest, PwC
Young Consultant of the Year
Lisa Japer, Capita Transformation
Hannah Lewsley, Deloitte
Zain Arora, Deloitte
Ross Logan, Elixirr
Rob Holt, GE Healthcare Finnamore
Rachel Tustin, GE Healthcare Finnamore
Amy Hehir, KPMG
Maximillian Pullen, Mott MacDonald
Dominic Putt, PwC
Ashutosh Nawani, PwC
Winners are decided by an independent panel of expert judges and will be announced at the Awards Dinner, held at the Park Plaza, Westminster, London on 21 April 2016.
Full details on the MCA Awards 2016 are available via www.mca.org.uk/awards.
-ENDS-
For more information, please contact:
Kevin Kear, Marketing Manager, Management Consultancies Association
Tel: 020 7645 7953
Email: kevin.kear@mca.org.uk
The Management Consultancies Association (MCA)
The MCA is the representative body for management consultancy firms in the UK. Its mission is to promote the value of management consultancy for the economy and society as a whole. The MCA's member companies which is over 60 per cent of the UK consulting industry, employ around 35,000 consultants and work with over 90 of the top FTSE 100 companies and almost all parts of the public sector. The UK consulting industry is amongst the best in the world and a vital part of the business landscape.
Compliance with the MCA's tough entry criteria and rigorous Code of Practice means that MCA member companies are widely acknowledged to provide high quality services to their clients.