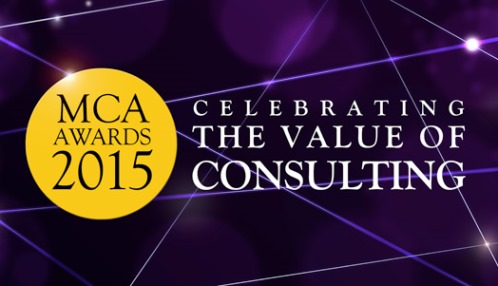 Grant Thornton and Kodak Alaris have won the outstanding Project of the Year Award at the 2015 MCA (Management Consultancies Association) Awards, held last night (23rd April) at the Park Plaza, Westminster. The project, which worked across 33 countries, secured the future of the UK Kodak pension scheme (KPP), preserved thousands of jobs and created two profitable new businesses.
The Grant Thornton and Kodak Alaris project also won the MCA Award for Change Management in the Private Sector and the People award.
The night was also hugely successful for the Big Four accounting firms, who collected nine awards between them (five project award wins, and four individual winners) with a further twelve highly commended honours (seven project honours and five individuals). Arup won the new Award for Best Use of Thought Leadership, and specialist firms BearingPoint and Suiko were also amongst this year's winners.
Jackie Collier of EY was the winner of The Times Award for Consultant of the Year for her work with Milton Keynes Hospital, where she was highly instrumental in delivering a cost improvement programme which saved the hospital £8million.
Stephen Ross, Chairman of Trustees at KPP said:
"Without Grant Thornton, we could not have completed the deal. GT worked seamlessly across service lines, combining practical deal advice with specialist knowledge."
Alan Leaman, Chief Executive of the MCA, said:
"The Big Four firms were very successful this year, but a number of large technology based firms and smaller specialist firms have also done extremely well. Once again, we were impressed by the enthusiasm, expertise and commitment of the client organisations, many of them amongst the most successful employers in the country.  
Anyone looking for role models in business should look at our outstanding Consultants of the Year." 
Grant Thornton and Kodak – delivering on the challenge
Fourteen months into the Chapter 11 bankruptcy of Eastman Kodak Company ("Kodak"), Kodak and its largest unsecured creditor, the Kodak Pension Plan (UK) ("KPP"), found themselves at a crossroads. If unsatisfied the claim would have resulted in the largest pension insolvency in UK history and a loss of 13,500 jobs. With not enough liquidity to fund its own emergence or make a satisfactory payment to KPP, Grant Thornton realised the only option was for KPP to buy Kodak's two largest non-strategic businesses. Grant Thornton had to then separate two fully integrated businesses spread across the globe and simultaneously set up the infrastructure for KPP to own and operate these two global businesses. The transaction avoided Kodak's liquidation and kept the KPP solvent – preserving thousands of jobs and creating two profitable businesses.
The MCA Awards were judged by an independent expert panel of judges with experience of working in the private and public sectors, universities, consultancy and journalism.
Full details on the MCA Awards 2015 are available via www.mca.org.uk/awards.
-ENDS-
For more information, including photos of the event, please contact:
David Pippett
Director
DWP Public Relations
Tel: 01225 335675/Mobile: 07899 798197
Email: david@dwppublicrelations.co.uk
Full list of winners:
OVERALL WINNERS
Project of the Year 
Grant Thornton with Kodak Alaris
Times Award for Consultant of the Year 
Jackie Collier, EY
PROJECT CATEGORY WINNERS
Best Use of Thought Leadership (sponsored by Tungtree Communications)
Arup for their work on Cities Alive: rethinking green infrastructure
Highly Commended: EY for their work on getting the UK ready for shale gas with the UK Onshore Operators Group and GE Healthcare Finnamore for their thought leadership programme and publications
Change Management in the Private Sector  
Grant Thornton with Kodak Alaris
Highly Commended: Boxwood with Arco and Curzon & Company with Imtech
Change Management in the Public Sector
KPMG with Police Service of Northern Ireland
Highly Commended: iMPOWER with Sandwell Metropolitan Borough Council; Newton Europe with Kent County Council (KCC) and PwC with NHS England Keogh Review
Commercial Excellence 
KPMG with Jaguar Landrover
Highly Commended: Arup with National Grid and Occumen with Fitness First
Customer Engagement 
PwC with HSBC
Highly Commended: Grant Thornton with Nationwide Building Society
Digital & Technology
BearingPoint with Jaguar Landrover
Highly Commended: Deloitte with Aegon and Grant Thornton with Nationwide Building Society
Finance and Risk Management
EY with Glasgow 2014 Commonwealth Games
Innovation (sponsored by Kimble Applications)
Arup with Croydon Council
Highly Commended: North Highland with John Lewis
International 
Arup with GVK Mumbai International Airport
Highly Commended: Quest Worldwide with AkzoNobel
People (sponsored by Atkins)
Grant Thornton with Kodak Alaris
Highly Commended: ELIXIRR with Morrisons and PwC with Ministry of Defence
Performance Improvement in the Private Sector (sponsored by Mindbench)
Suiko with Vivergo Fuels
Highly Commended: Newton Europe with Brintons
Performance Improvement in the Public Sector
PwC with South Tyneside NHS Foundation Trust
Highly Commended: EY with Ministry of Defence and Newton Europe with Kent County Council (KCC)
Social and Environmental
Accenture with School of Hard Knocks
Highly Commended: EY with Invest in Africa
Strategy
CSC with Royal Bank of Scotland
Highly Commended: EY with LLR Health & Care Economy
INDIVIDUAL CATEGORY WINNERS
Change Management Consultant of the Year
Kate Fairhall, Arup
Highly Commended: Ruth Morgan, PwC
Digital & Technology Consultant of the Year
Sean Mahdi, PwC
Highly Commended: Mark Burnett, BearingPoint
HR Consultant of the Year
Arun Batra, EY
Highly Commended: Madeline Lewis, KPMG
Performance Improvement Consultant of the Year
Jackie Collier, EY
Highly Commended: Ally Robson, Accenture and Rory Leyne, KPMG
Strategy Consultant of the Year
Grant Saggers, PwC
Young Consultant of the Year
Cynthia Bernard, Propaganda
Highly Recommended: Annabelle Woods, Arup; Cassandra Hancock, KPMG and Hussein Hadid, PwC
The Management Consultancies Association (MCA)
The MCA is the representative body for management consultancy firms in the UK. Its mission is to promote the value of management consultancy for the economy and society as a whole. The MCA's member companies which is over 60 per cent of the UK consulting industry, employ around 35,000 consultants and work with over 90 of the top FTSE 100 companies and almost all parts of the public sector. The UK consulting industry is amongst the best in the world and a vital part of the business landscape.
Compliance with the MCA's tough entry criteria and rigorous Code of Practice means that MCA member companies are widely acknowledged to provide high quality services to their clients.