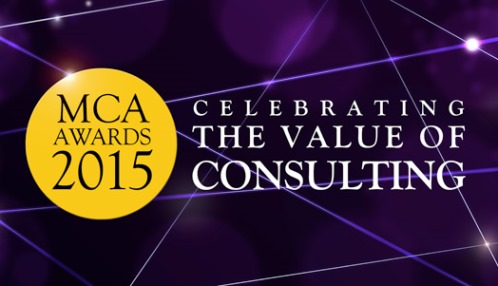 The main event in the UK's consulting calendar continues to attract a rich diversity of management consulting firms and consultants – with 30 separate firms shortlisted for the 2015 MCA Awards. The awards evening will take place on Thursday 23 April. Winners are decided by an independent panel of expert judges.
The new award for the Best Use of Thought Leadership by a consulting firm has attracted a lot of attention, with eight different firms shortlisted for this coveted prize.
The Big Four accountancy firms lead the way collectively with 48 shortlisted projects and individual consultants – PwC with 18, EY with 13, KPMG with 12, and Deloitte with five. Many of the UK's specialist consulting firms are also fighting it out with the larger consultancies to win one of the prestigious awards.
Entries are put forward by consultancies and their clients, who include many of the largest and most significant UK companies and organisations. Winners in 2014 included Jaguar Landrover, Lloyds Banking Group, Transport for London and John Lewis.
Hugely important projects to drive efficiencies and change in the public sector have also been shortlisted this year, including work for local authorities, central government departments, NHS Scotland, and for both the Metropolitan Police and the Police Service in Northern Ireland.
Alan Leaman, CEO of the MCA, commented:
"We have had so much interest in this year's awards from firms of all sizes, and to be shortlisted already recognises that these projects rank alongside the absolute best in the UK and overseas. Congratulations to everyone who has been shortlisted, and we look forward to celebrating everyone's successes in April."
The MCA Awards shortlist is as follows:
Best Use of Thought Leadership
Arup
EY
GE Healthcare Finnamore
Grant Thornton
KPMG – Entry 1
KPMG – Entry 2
Moorhouse
PPL
PwC – Entry 1
PwC – Entry 2
Change Management in the Private Sector
Boxwood with Arco
Curzon with Imtech
EC Harris with Heathrow
EY with Nokia
Grant Thornton with Kodak Alaris
LCP Consulting with Edwards Vacuum
Change Management in the Public Sector
Atkins with Bridgend, Cardiff and Vale of Glamorgan Councils
Atkins with Department for Work and Pensions
Deloitte with Metropolitan Police
EY with Network Rail
GE Healthcare Finnamore with NHS Scotland
iMPOWER with Sandwell Metropolitan Borough Council
KPMG with Police Service of Northern Ireland
Newton Europe with Kent County Council (KCC)
PwC with NHS England Keogh Review
Commercial Excellence
Arup with National Grid
Capita Consulting with London Borough of Barnet
EY with Central Southern Commissioning Support Unit
KPMG with Jaguar Land Rover
Occumen with Fitness First
Customer Engagement
BAE Systems Applied Intelligence with The Health & Social Care Information Centre (HSCIC)
CSC with Royal Bank of Scotland
Grant Thornton with Nationwide Building Society
PwC with HSBC
Digital & Technology
Atkins with Department for Work and Pensions
BearingPoint with Jaguar Land Rover
Deloitte with Aegon
Grant Thornton with Nationwide Building Society
IBM with BP Castrol
KPMG with Lloyds Banking Group
KPMG with the AA
Finance & Risk Management
EY with Glasgow 2014 Commonwealth Games
Innovation
Arup with Croydon Council
EY with London Councils
IBM with Homebase
Mott MacDonald with AmeyCespa
North Highland with John Lewis
PPL with North West London Collaboration
International
Arup with GVK Mumbai International Airport
BDO with Department for International Development (DFID)
EY with HSBC
PwC with Roche
Quest Worldwide with AkzoNobel
People
Arup with Heathrow
ELIXIRR with Morrisons
Grant Thornton with Kodak Alaris
PwC with Department for Business, Innovation & Skills
PwC with Ministry of Defence
Performance Improvement in the Private Sector
LCP Consulting with Edwards Vacuum
Newton Europe with Brintons
PwC with Office Angels
Suiko with Vivergo Fuels
Performance Improvement in the Public Sector
Atkins with Rural Payments Agency
EY with Ministry of Defence
GE Healthcare Finnamore with Chelsea & Westminster Hospital
KPMG with West Sussex Hospital NHS Trust
Newton Europe with Kent County Council (KCC)
PwC with Barts NHS Health Trust
PwC with South Tyneside NHS Foundation Trust
Social & Environmental Value
Accenture with School of Hard Knocks
EY with Invest in Africa
Strategy
CSC with Royal Bank of Scotland
EY with LLR Health & Care Economy
Individual Awards
Change Management Consultant of the Year
Kate Fairhall, Arup
Chris Clarke, CSC
Sam Sanders, KPMG
Georgina Cox, PwC
Ruth Morgan, PwC
Digital & Technology Consultant of the Year
Mark Burnett, BearingPoint
Mihir Parikh, BearingPoint
Enda Ridge, KPMG
Sean Mahdi, PwC
Human Resources Consultant of the Year
Emma Leonis, Deloitte
Arun Batra, EY
Madeline Lewis, KPMG
Juliet Stuttard, PwC
Performance Improvement Consultant of the Year
Alistair Robson, Accenture
Alistair McKelvie, BearingPoint
Jackie Collier, EY
Rory Leyne, KPMG
Richard Crofton, PwC
Strategy Consultant of the Year
Paul Le, CSC
Grant Saggers, PwC
Young Consultant of the Year
Annabelle Woods, Arup
Rossi Dzhedzheva, Deloitte
Emma Staff, Deloitte
Daniel Garsin, ELIXIRR
Katerina Skindilias, EY
Cassandra Hancock, KPMG
Cynthia Bernard, Propaganda
Hussein Hadid, PwC
David Lurie, PwC
Winners for each category will be announced at the Awards Dinner, held at the Park Plaza, Westminster, London on 23 April 2015. The winners will also be featured in a special Times supplement after the main event.
Full details on the MCA Awards 2015 are available via www.mca.org.uk/awards.
-ENDS-
For more information, please contact:
David Pippett, Director, DWP Public Relations
Tel: 01225 335675/Mobile: 07899 798197
The Management Consultancies Association (MCA)
The MCA is the representative body for management consultancy firms in the UK. Its mission is to promote the value of management consultancy for the economy and society as a whole. The MCA's member companies which is over 60 per cent of the UK consulting industry, employ around 35,000 consultants and work with over 90 of the top FTSE 100 companies and almost all parts of the public sector. The UK consulting industry is amongst the best in the world and a vital part of the business landscape.
Compliance with the MCA's tough entry criteria and rigorous Code of Practice means that MCA member companies are widely acknowledged to provide high quality services to their clients.