A management consulting firm that has successfully boosted foreign investment into the UK from Latin America won the prestigious Project of the Year Award at this year's MCA Awards for the consulting industry.
Held at a packed Park Plaza Hotel in Westminster, the Awards evening brought together hundreds of consulting firms and their clients to recognise outstanding projects and individual management consultants.
Integration Management Consulting has worked with the Department for International Trade to win new sources of investment for the UK from within countries such as Colombia, Chile and Argentina.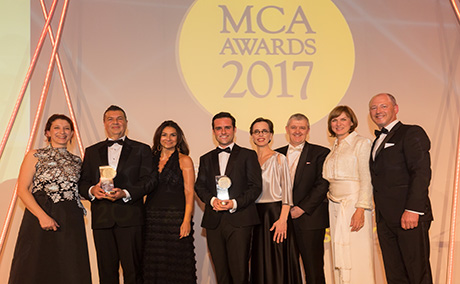 Alan Leaman, Chief Executive of the MCA, said:
'As Britain faces up to the consequences of Brexit, this project is a great example of the difference that our industry is making to secure future jobs and prosperity for all.
'Business is challenged daily by technological change, digital automation and AI. Public services must achieve even more for even less. As these Awards show, consulting is rising to these challenges, innovating relentlessly and delivering the great outcomes that we need.'
Three new Awards for Consulting Excellence were given this year to Arup (for Ethical Behaviour), PPL (for Client Service and Value) and Arcadis (for Professional Development). These Awards recognise outstanding performance and innovation in areas that support the nine principles of the MCA's Consulting Excellence scheme, the hallmark of quality in consulting.
Other high profile winners on the night were Deloitte who picked up the Awards for Best Use of Thought Leadership, Social and Environmental Value and the individual Times Consultant of the Year, Sonia Storr. Arup also were big winners, triumphing in the categories for Finance and Risk Management, People, and Performance Improvement in the Public Sector.
Overall it was a night that demonstrated the breadth of talent within the UK consulting industry.
The winning firms included Egremont Group (who also won the Award for Best New Consultancy), Pearson Ham Consulting, EY, Capita Transformation, PwC and Curzon & Company.
And the winning clients included the major US retailer Walgreens, Welsh Water, London Overground, Welcome Break Group, Southampton City Council and the Climate and Development Knowledge Network that did so much to secure the Paris Agreement on Climate Change.
Besides her win as Consultant of the Year, Sonia Storr of Deloitte was also the winner in the Change Management Consultant of the Year category. Other individual winners were David Woodhead of DXC Technology (Digital and Technology Consultant of the Year), Olu Eriolu of Arcadis (Performance Improvement Consultant of the Year) and Jamie Ounan of Inner Circle Consulting who won Strategy Consultant of the Year.
The Young Consultant of the Year Award went to Tim Price of PwC.
The MCA Awards are judged by an independent expert panel of judges with experience of working in the private and public sectors, universities, consultancy and journalism.
The full list of winners can be found below. Details on each winning and highly commended project and further information on the MCA Awards are available at www.mca.org.uk/awards.
– ENDS –
---
The 20th MCA Awards this year marked a new high in the quality of the entries. These prestigious Awards are highly valued by both consulting firms and their clients, who enter the project categories together. The full list of 2017 Awards is as follows:
OVERALL WINNERS
Project of the Year
Winner:
Integration Management Consulting with the Department for International Trade
Times Award for Consultant of the Year
Winner:
Sonia Storr, Deloitte
Best New Consultancy (sponsored by Prism Executive Recruitment)
Winner:
Egremont Group
Highly Commended:
Pearson Ham Consulting
---
CONSULTING EXCELLENCE WINNERS
Consulting Excellence Award for Client Service and Value
Winner:
PPL
Highly Commended:
GE Healthcare Finnamore
PwC
Consulting Excellence Award for Ethical Behaviour
Winner:
Arup
Highly Commended:
PwC
Consulting Excellence Award for Professional Development
Winner:
Arcadis
Highly Commended:
Moorhouse Consulting
---
PROJECT WINNERS
Best Use of Thought Leadership
Winner:
Deloitte for their 'Future of Work' series
Highly Commended:
PwC for the implications for the UK economy of leaving the EU
Change Management in the Private Sector
Winner:
Egremont Group with Walgreens
Highly Commended:
Challenge Consulting with Hitachi Capital Vehicle Solutions
Change Management in the Public Sector
Winner:
Integration Management Consulting with the Department for International Trade
Highly Commended:
Deloitte with Hampshire County Council
GE Healthcare Finnamore with the Midlands and Lancashire CSU
KPMG with the Western Sussex Hospitals NHS Foundation Trust
Commercial Excellence
Winner:
Pearson Ham Consulting with Welcome Break Group
Customer Engagement (sponsored by Huthwaite International)
Winner:
EY with Informa
Highly Commended:
Deloitte with Aldi
Digital & Technology (sponsored by Thales Cyber and Consulting)
Winner:
Capita Transformation with Southampton City Council
Highly Commended:
Atos Consulting with the Royal Free London NHS Foundation trust
Deloitte with Clydesdale Yorkshire Bank Group
Finance and Risk Management
Winner:
Arup with Dwr Cymru Welsh Water
Innovation (sponsored by Kimble)
Winner:
Propaganda with ReFood
Highly Commended:
Deloitte with Transport for London
International (sponsored by IndigoBlue)
Winner:
PwC with the Climate and Development Knowledge Network
Highly Commended:
Egremont Group with Walgreens
People (sponsored by KellyOCG)
Winner:
Arup with the NHS East Midlands Leadership Academy
Highly Commended:
Accelerating Experience with CitySprint
Performance Improvement in the Private Sector (sponsored by Mindbench)
Winner:
Curzon & Company with Chemring Group
Highly Commended:
Arcadis with Southern Water
GE Healthcare Finnamore with Healthcare at Home
Performance Improvement in the Public Sector
Winner:
Arup with London Overground
Social and Environmental Value
Winner:
Deloitte with the School of Vi-Ability
Strategy
Winner:
Propaganda with ReFood
Highly Commended:
Cognosis with SABMiller
---
INDIVIDUAL CONSULTANT OF THE YEAR AWARDS
Change Management Consultant of the Year
Winner:
Sonia Storr, Deloitte
Highly Commended:
Tatiana Collins, Bearing Point
Digital & Technology Consultant of the Year
Winner:
David Woodhead, DXC Technology
Highly Commended:
Maria Kordoni, Arup and Ed Greig, Deloitte
Performance Improvement Consultant of the Year
Winner:
Olu Eriolu, Arcadis
Highly Commended: Shiow Wei Goh, Deloitte
Strategy Consultant of the Year
Winner:
Jamie Ounan, Inner Circle Consulting
Highly Commended:
Josef Hargrave, Arup
Young Consultant of the Year
Winner:
Tim Price, PwC
Highly Commended:
Emily Brennan, Atos Consulting
James Lawson, Deloitte
Caoimhe Thornton, KPMG